Absolut Torr/Absolute Dry is a classic antiperpirant on the pharmacy shelf in Sweden and the obvious choice for anyone looking for an extra effective antiperspirantär against sweaty armpits, hands, feet etc. For peolpe suffering from hyperhidrosis it can have a dramatic impact on both everyday life and the overall quality of life.
Under the brand Absolut Torr, the same effective solution is now also available in a roll-on formula. (So far the Roll-on is not available under the international brand Absolute Dry.) It has a big roll-on ball, for convenient application. The original formula has been slightly adapted, to suit the demands of the new packaging solution, but is as concentrated and effective as the Dab-on original.
Effective and safe against sweat and sweat odor, for up to 7 days.
Now available as Roll-on, Dab-on and Wipes.
For all types of sweating, e.g. sweaty armpits, hands and feet.
Free from perfume, dyes and parabens.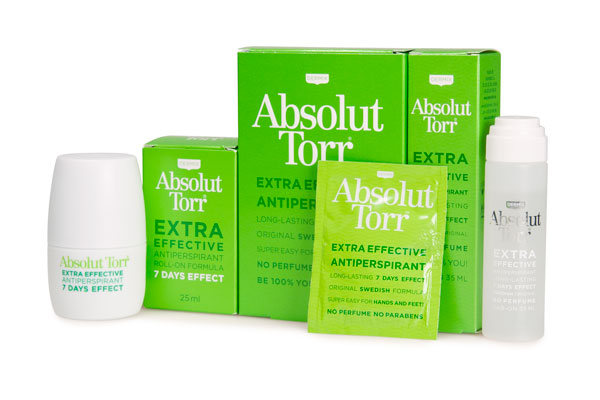 Absolut Torrs produkter säljs via apoteken. Rekommenderat pris på nya Absolut Torr Roll-on är ca 119 kr.
För mer information, se www.absoluttorr.se.